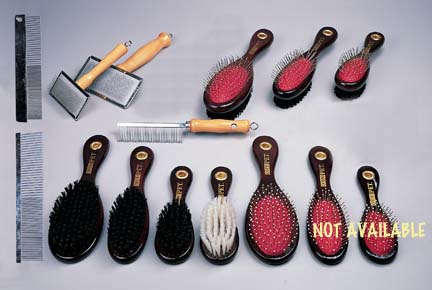 Steel Combs
#8215 Steel Comb
#8213 Steel Comb
Slicker Brushes
Slanted to provide comfort for the animal while removing dirt from the coat.
#8211 Slicker Brush 1.5" x 3-3/4"
#8212 Slicker Brush 2" x 4-1/2"
Cat Brush
Soft bristles designed for sensitive skin.
#8209 Oval Shaped
Brushes
Brushes are a necessity for all pet owners. Brushing helps release dirt particles and
loose hair from the animal allowing for a healthy, shiny coat. Brushes are attractively
packaged with bar code header. inlaid grommet in handle for easy display.
Combination Pin & Bristle Brushes
#8200 Large Oval Shaped
#8201 Medium Oval Shaped
#8202 Small Oval Shaped

Nylon Bristle Brushes
#8206 Large Oval Shaped
#8207 Medium Oval Shaped
#8208 Small Oval Shaped
Tip Pin Brushes
#8203 Large Oval Shaped
#8204 Medium Oval Shaped
#8205 Small Oval Shaped